Reading Time:
5
minutes
For many of you, your student accommodation will be the first place you've lived since your parents' place, so it's vital it feels like home. A sure-fire way to get things feeling more like you is to decorate your digs with little touches that reflect your personality and favourites – be it photos of mum, dad and dog, or posters of your favourite bands, films and artists.
To help you personalise your space at uni, we're here with a simple guide on decorating your student accommodation, including money-saving tips and a few do's and don'ts.
The do's and don'ts of decorating your uni halls
Before we jump into personalising, we thought it was worth looking at a few of the do's and don'ts of decorating your student digs. Lots of new arrivals don't know where they stand when it comes to personalisation, so the below guide should help:
Do's
Add whatever decorations you fancy to your room, whether it's a vintage vase, photos of mum and dad, or posters of your favourite bands.
Make yourself at home – we want your room to feel like home.
Respect your space and keep it clean, tidy and well organised.
Don'ts
Try not to mark the walls when putting up pictures and posters. Pins or nails can cause damage, so stick with Blu Tack or adhesive hooks that don't leave marks.
Sounds obvious, but don't paint your room or make permanent changes – it'll need to look just as you found it when you leave.
We know they're cosy, but candles and incense sticks are a no-no. We want to make sure everyone's safe and happy at all times.
With those pointers out the way, let's dive into the fun part: decorating and personalising your digs.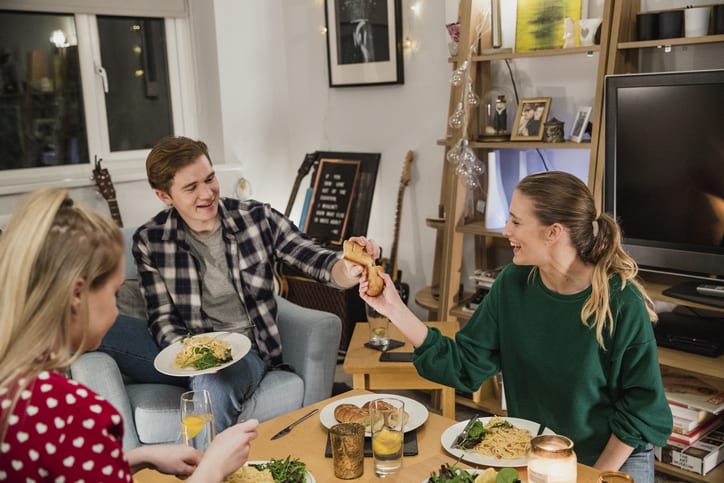 How to add personality and style to your room
There are all sorts of ways to decorate and personalise your room, so get creative and let your imagination run riot. Whether you're craving a little slice of home or want to inject some of your personality, here are some simple additions that will make your room feel like your own:
Add photographs of loved ones and family members – no matter how far away they may be, you can feel connected to friends and family from home by adorning your space with photographs. Some of the best ways to keep family close is to create a photo collage on your noticeboard, or take it to the next level with a photo washing line.
Put up posters – no student room would be complete without a poster, whether it's of your favourite band, film or artist. Posters are a cheap and easy way to add personality to your room; just make sure to use Blu Tack or safe self-adhesive sticky pads so as not to damage the walls.
Invest in beautiful bedding – your bed is a focal point of your room, so how it looks is important. A bedding set you really love will add visual interest to the space, and make sure your room always looks comfy, cosy and inviting.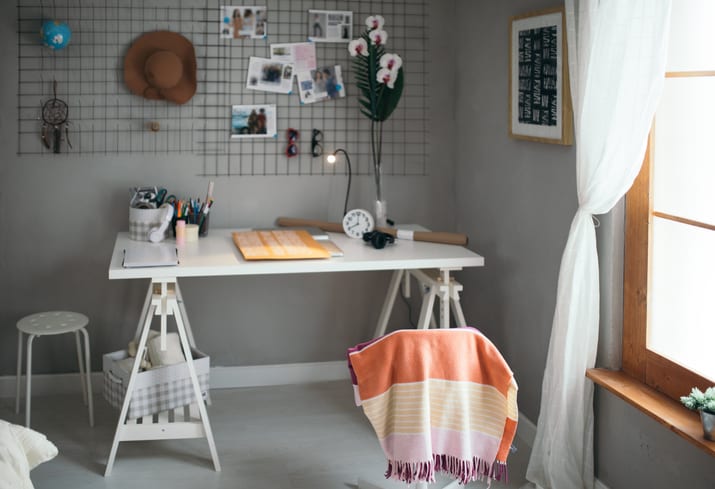 Lay a rug – rugs give you the chance to add little colour and personality to your floor, so your room looks great from top to bottom. A big, cosy rug will also add warmth and texture, so get one you love sinking your toes into when you first wake up.
Dress your desk – you'll be spending a lot of time at your desk, so make sure it's a space you love to sit. Books, photos, stationery and decorations can all help make your desk a more inspiring place to spend time, whether you're catching up with uni work or video chatting with your folks.
Add fairy lights and mood lighting – draping fairy lights around your headboard or bookshelves is a great way to cosy up your living space. No one wants to rely on a 'big light' when relaxing and spending time in their room, so a cosy lamp or set of fairy lights will help enhance that all-important 'hygge'.
Make sure everything has its proper place – the best thing you can do to keep your room looking stylish, homely and inviting is to make sure that everything is clean, tidy, organised and in its proper place. Invest in stylish storage boxes to keep unsightly cables and other bits and bobs out the way, and get yourself a laundry basket to stay on top of dirty washing.
Affordable ways to decorate your student accommodation on a budget
Strapped for cash but keen to inject a little life into your student digs? There are ways to give your space a little lift on a budget, so long as you're prepared to get savvy and go the distance to find the bits and bobs your room needs.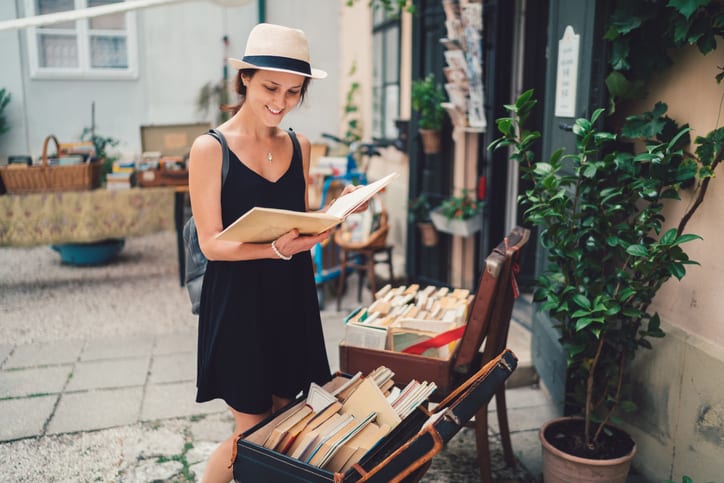 Here are our top tips on how to decorate your student accommodation on a budget:
Head to your local charity shops – charity shops offer a treasure trove of knick-knacks and bric-a-brac that you can recycle and repurpose for your student home. Whether it's a lamp, rug or a collection of vintage books, charity shops should be your first port of call for interesting items with which to decorate your space.
Check Gumtree and Freecycle – people give away all sorts of oddities and treasures on Gumtree and Freecycle, so if you're looking for interesting bits and bobs for your room, it's worth a look.
Seek out local car boot sales and flea markets – most towns and cities in the UK have at least one regular car boot sale and flea market, presenting a fun way to find interesting pieces for your room – at a price you can afford.
Take advantage of your student discount – you'd be surprised just how many retailers offer student discount, particularly through schemes like UNiDAYS and NUS. Be sure to shop around and find retailers offering a 10% or 20% discount for students, so you can get those home essentials for a little less.
Ask friends and family for donations – if you're really keen to scrimp on decorating your digs, you could always ask close friends and family if they have anything to donate. Most households have odds and ends hiding in the loft that they'd be happy to give away, so you can repurpose them for your own space. After all, one man's junk is another man's treasure.
So, there you have it, our no-nonsense guide to decorating your student halls so they feel more like your own. We'd love to see how you've personalised your space, so send us your pictures on our Facebook page. Head to our blog for more helpful student tips, or visit the homepage for information about our stylish and contemporary student homes.