Reading Time:
3
minutes
Christmas is the most magical time of the year and if you're anything like us, you've already started decorating your apartment, drinking hot chocolate, dancing to Christmas music while making gingerbread cookies, and perhaps you've even bought a few of your first Christmas presents.
We can all agree that there are so many things to love about Christmas, and one of our favourites is visiting Christmas markets. We've put together a list of 4 of our favorite Christmas markets to visit whilst studying or working in Copenhagen.
1. TIVOLI
Tivoli is breathtakingly beautiful around Christmas time, with its spectacular decorations and thousands of sparkling lights -70,000 to be exact – brightening up the winter darkness. You will see more than 1,000 Christmas trees covered in snow, and many cozy wooden stalls, where you can enjoy hot drinks and snacks. We especially recommend getting churros and hot chocolate with mini marshmallows. The wooden stalls are covered in snow, creating the perfect Nordic Christmas feeling. You can also meet Santa and his adorable reindeers and you might as well go for some fun rides in the historic amusement park!
Christmas is simply a magical adventure in Tivoli, and you don't want to miss it! The stalls also have plenty of gift ideas, such as gloves, hats, and Danish art e.g., Royal Copenhagen, and the Tivoli Youth Guard fills the gardens with wonderful music.
Christmas in Tivoli will end on December 31st.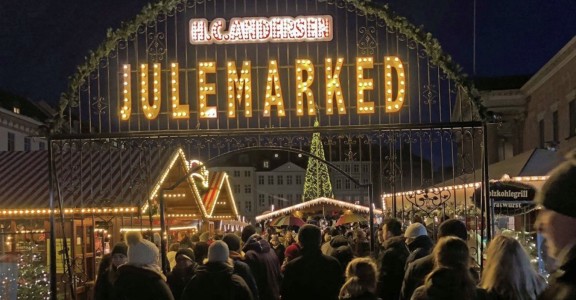 2. H. C. ANDERSEN'S CHRISTMAS MARKET
The H. C. Andersen's Christmas market at Kongens Nytorv is filled with many amazing stalls. This Christmas market is named after the famous Danish writer, Hans Christian Andersen, and the stalls are named after his fairy tales – making it even more magical. You'll be able to buy apple slices with jam and powdered sugar, mulled wine, and look for Christmas gifts for your loved ones. Admire the Christmas decorations at Hotel D'Angleterre and get lost among the lights, before it all ends on December 21st.
While you're there, pop over to visit the Royal Copenhagen store and have a look at their Christmas table decoration. It's a Christmas tradition that has been going on since 1963, where Royal Copenhagen invite artists and celebrities to create 6 different Christmas tables – it's filled with inspiration for Christmas lovers.
It's safe to say, that there's something for everyone at this cozy Christmas market.
3. HØJBRO PLADS
Højbro Plads Christmas market is one of Copenhagen's largest. The market is decorated with Christmas trees, more than 300,000 twinkling lights, reindeer, and Santa's sleigh. There are several stalls, where you can experience European specialties, all log cabins imported from Tyrol. This means many of the stallholders are from Germany, giving you the opportunity to taste typical German Sausages, waffles and sweets. But if you try anything at all, make it the popular Danish Christmas treat of apple slices or mulled wine blended with cinnamon or cardamom, for that extra Christmas taste.
Højbro Plads Christmas market ends on December 21st.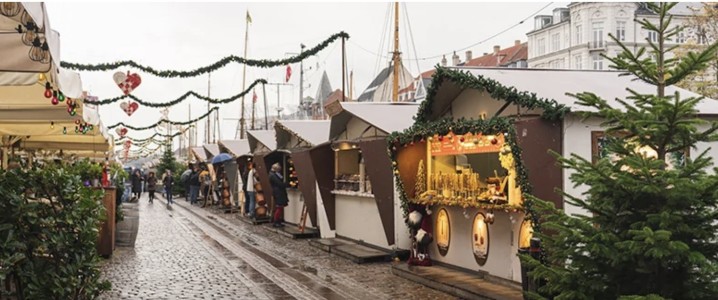 4. NYHAVN
Enjoy a stroll amidst the colorful buildings of Nyhavn and the pretty canals. The reflections of Christmas lights from all the Christmas stalls, trees, and boats is quite something. Nyhavn is always buzzing, with its many restaurants and bars spilling out next to the canals, but during Christmas time Nyhavn really sparkles with its many Christmas stalls.
In many of the wooden stalls, you'll find traditional Danish hot dogs or roasted almonds to try.
Like most of the Christmas markets in Denmark, Nyhavn Christmas market also ends on December 21st.
There are plenty of ways in which you can experience the magic of Christmas in Copenhagen, whether that's blasting Christmas songs through the radio, visiting Christmas markets, or watching Home Alone for the 17th time by yourself. Whether you're hanging around or headed home, we hope you get a chance to check out our Christmas market recommendations, and that you have a wonderful and safe Christmas.
Happy holidays from the Nido Team.