Reading Time:
4
minutes
While studying in London, your main way of getting around is usually by bus or on the Underground. As quick and convenient as these modes of transport can be, sometimes it's nice to get away from the hustle and bustle of busy tube platforms and crowded buses, and see the city on two feet.
With so many parks, green spaces and canal paths to take a stroll through, the nation's capital has much to offer those who are looking to slow down and take in its astonishing beauty. With hilltop views and incredible architecture to see along the way, why not see a different side of the city by trekking around this collection of walking routes around London.
Jubilee Greenway
We'll start with something short for the rookies out there. Though the whole route is 37 miles, we suggest the 2-mile jaunt from Little Venice to Camden Town; a quiet stroll that's ace on a sunny summer's day when the canal boats and barges move along with you. And you can reward yourself with some delicious grub once you reach Camden, too.
The rest of the route has plenty of things to see as well; the whole thing is divided into ten different sections and passes through some of the city's biggest and best sights. If you want to carry on after you've eaten, then Camden Town to Victoria Park is a 4-mile walk through to the latter's top-notch greenery, while the last two miles take you to Mile End Park, where you can get some great views of Limehouse Basin.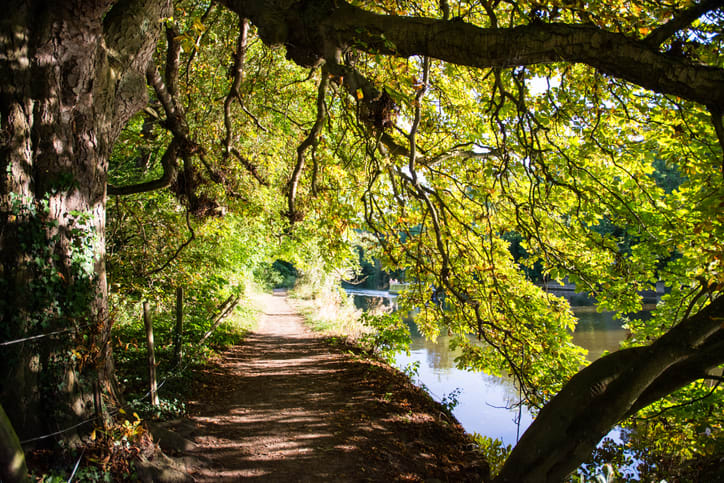 The Line
Like your outdoor walks with plenty of culture to gorge on along the way? Make The Line your next destination. Stretching from The O2 in Greenwich and the Queen Elizabeth Olympic Park in Stratford, this route is the city's first contemporary arts walk, dotted with works from the likes of Damien Hirst and Antony Gormley.
Begin your jaunt in Greenwich and mosey past Alex Chinneck's upside down electricity pylon sculpture before gliding over the Thames in the Emirates Air Line cable car, at which point things resume at the Royal Dock. A 3-mile walk with lots to please the eye!
The Thames Path
The Thames Path is a staggering 184 miles long, and while walking that distance is definitely out of the question, the Hampton Court to Albert Bridge section in the north is well worth trekking through. Between Hampton Court Palace's Tudor architecture and Albert Bridge itself, there's a whole load of amazing greenery to wander through, so it's great for those looking for something other than London's usual urban sprawl. Along the way, you'll take in Kew Gardens, Marble Hill House's lush plains, and the revitalising minimalism of Syon Park. You'll never have known all of this was on your doorstep.
Hampstead Circular Walk
For something a bit more untamed after the pampered greenery of the above, Hampstead Heath is one of the city's most beloved green spaces. There's something for everyone here: the 1.7-mile Sandy Heath and Pergola Trail, Parliament Hill's superb views across the surrounding city, and even a country mansion housing an excellent collection of fine art.
With its 30+ ponds and numerous wildlife, it's an area of the city that's bursting with nature, while its numerous trails take you through the highlights of Hampstead, including a series of pubs, so you can reward yourself with a cold refreshment or two after you've worked up a sweat.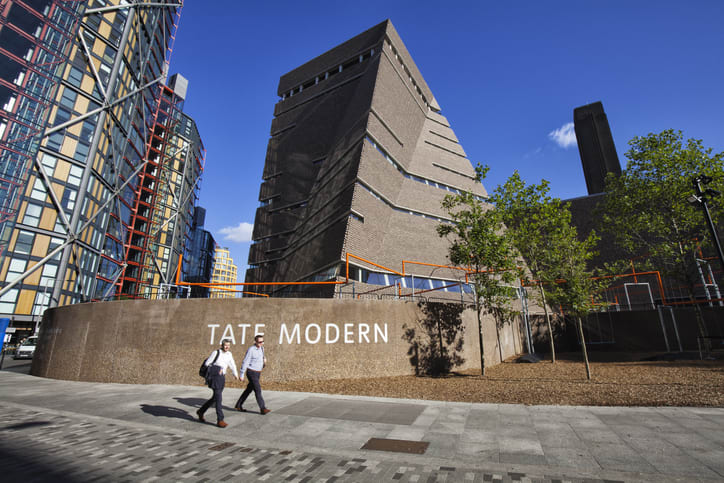 South Bank
At various times of the day, strolling along South Bank lets you appreciate the city in different ways. As the sun sets, its Victorian-era lamp posts cast an orange glow on the Thames, lighting up Westminster from below, flanked by the city skyline fading into the background.
By night, it's something else entirely. When the area's attractions close and quiet falls over South Bank, it's well worth soaking in the peacefulness in the early evening without the rush of tourists and commuters passing you by.
Jubilee Walkway
If you have friends visiting and you've left the sightseeing to the last minute, then good news: the 15-mile Jubilee Walkway will help you tick off some of the city's most famous landmarks in quick succession. Made up of five sections, be sure to make some time for the City Loop and Jubilee loop; each consists of 2 two-mile walks, both of which feature plenty of sights to see.
The City Loop first takes you through the Barbican Centre and on to the Guildhall Art Gallery, so it's excellent for those looking for a dash of culture with their walk, while the Jubilee Loop is a great route for those visiting the city for the first time. Along the way, you'll see St. James' Park, Westminster Abbey and the Houses of Parliament, which is sure to put a dent in anyone's checklist of iconic London sights! Plus, the walkway has plenty of signposting, providing directions at key junctions and marking nearby historical events as you trek through.
If you're looking for a student living experience that offers more, head over to the NIDO STUDENT SITE to see what properties are nearby or drop us a line on 0207 1000 100 for more information on our student residences.