Reading Time:
5
minutes
'The Second City', 'The Workshop of the World', 'Brummagem'; Birmingham has been called many different names in its time. But for the people who call it home, it's a city known for its storied history, impressive architecture and friendly, cheerful and welcoming vibe.
Planning to live in Birmingham during your studies? We've come up with a bite-sized guide to the city to give you a taste of its fascinating history, iconic landmarks, and a selection of highlights and points of interest to check out while you're here.
Brum's history in brief
Coming from the word 'Beormingham', the name originally meant 'Beorma's people', referring to the tribe that inhabited the area during the Anglo Saxon era.
In the early Middle Ages, Birmingham earned a reputation as a Midlands market town. As various trade routes passed through the area, the city grew much larger.
Through the medieval period, the city's wool trade boomed, with its wares proving popular at local markets. By the mid 16th century, the population had reached around 2,000 – becoming one of the country's largest towns in the process.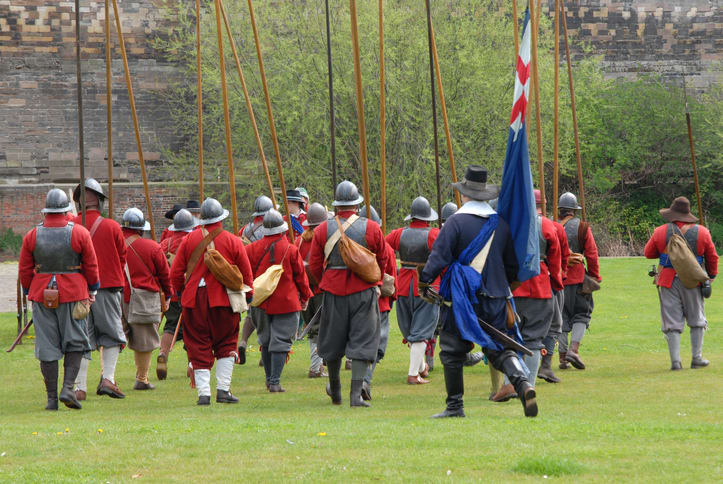 The city supplied the Parliamentarians with swords, pikes and armour during the English Civil War (1642-46), giving the area a strong reputation as a metal-working centre.
In the 18th century, Birmingham emerged as a powerhouse in the fields of science, medicine, technology, philosophy and natural history. During the Industrial Revolution, the development of the industrial steam engine became a pivotal moment, playing a huge role in the worldwide increase in productivity that occur through the rest of the century and beyond.
The city's innovation continued into the 19th century, becoming a centre for the country's canal networks as well as a terminus for two long-distance railway lines. As a result, a huge influx of people flocked to the city.
In the Second World War, Birmingham's industrial prominence made it a target for Luftwaffe Bombers, leading to the deaths of 2,241 citizens during the Blitz.
Post-war, Birmingham flourished in terms of business, but its living conditions were generally considered poor. Redevelopment in the 50s and 60s sought to improve these issues, with high-rise flats replacing slums, its station being rebuilt, and the Bull Ring shopping centre bringing in new retail and shopping opportunities to its citizens.
Birmingham's famous landmarks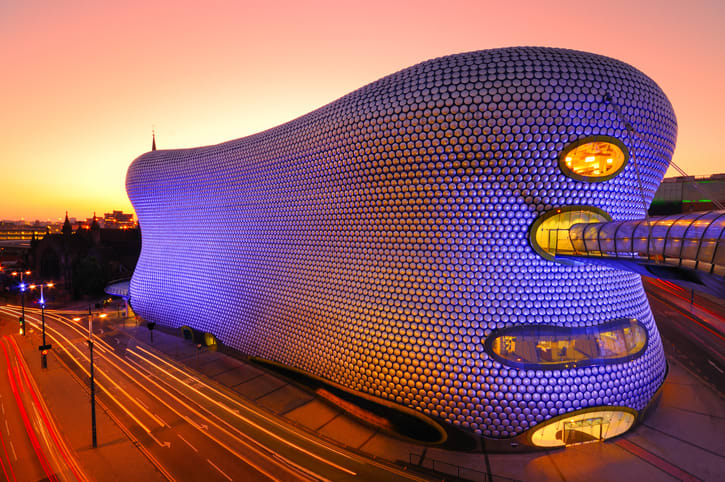 The Bullring – Birmingham's most iconic attraction? It could well be. Opened by Prince Phillip back in 1964, the legendary shopping centre has since undergone a facelift, with 15,000 aluminium discs, that glow blue through the night, adorning its exterior.
"Bully" – the equally iconic bronze bull that stands outside the Bullring, Bully always gets dressed up to reflect the year's seasons whenever he can. Citizens were rightly not impressed when he was vandalised in 2005.
Chamberlain Square – named after notable Birmingham Mayor Joseph Chamberlain, this civic square pays tribute to the wealth that led to the city prospering during the Victorian and early 20th-century. The town centre and the Museum and Art Gallery are right next to it and well worth checking out too.
Birmingham Back to Backs – the last surviving back-to-back courthouses in the city (the rest were replaced during the city's 50s and 60s redevelopment), they're now a museum operated by the National Trust. Book a guided tour, and you'll be able to see the staircases, chimneys and courtyards that date back to the mid-19th century.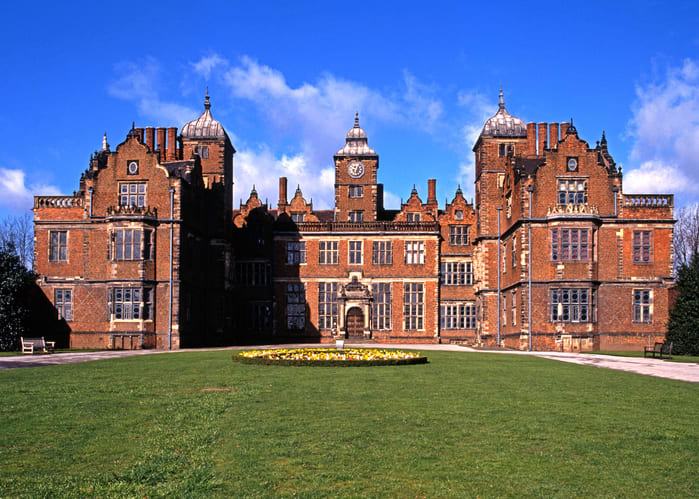 Aston Hall – not far from Aston Villa's football ground, Aston Hall's Jacobean-style exterior, as well as its associated gardens, are well worth exploring. Open seven days a week, visitors can explore the grounds as well getting to walk the hallowed halls of its interior too.
The Grand Hotel – built back in 1879, The Grand Hotel is a French-Renaissance attraction that stands as a monument to the city's impressive architectural heritage. Unused since 2002, this well-loved building is being restored to a fully operational hotel once again.
Facts and things to do
With 56km of waterways – more than a certain Italian city known for its canals – Birmingham is very much the Venice of England!
As if those European credentials weren't enough, Birmingham ranks among the highest for most green spaces in Europe. With over 600 parks, that's more than Paris!
Did you know that tennis was created here? Between 1859 and 1865, Harry Gem and Augurio Perera combined elements of racquets with the Basque game pelota, developing the modern game as we know it today.
The medical x-ray was also birthed here by John Hall-Edwards! In an ironic twist, he eventually succumbed to radiation poisoning due to frequent use of x-rays themselves.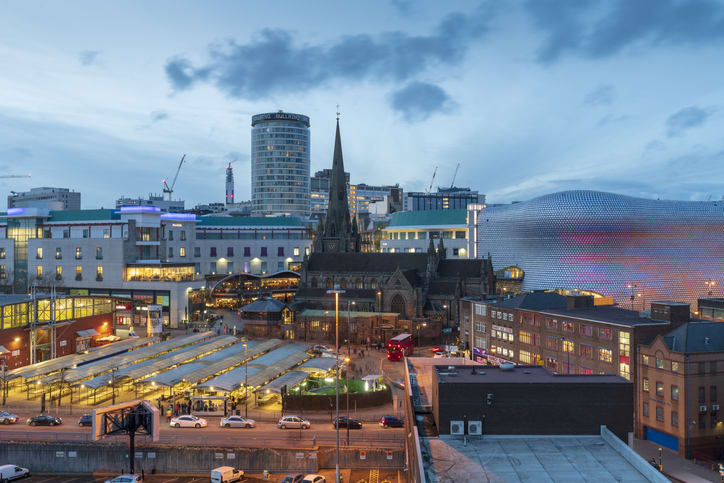 You might not know this, but Birmingham has a reputation for some seriously good grub. Fans of Indian food should make a trip to Praza and Pushkar for a premium take on their favourite dishes, while Adam's is a Michelin-starred restaurant offering intricately prepared and elegant fare that's perfect for special occasions.
Film buffs should flock to Electric Cinema, the UK's oldest working cinema. Showing films on the artier side, they know how to do movie-watching in total luxury, with plush two-seater sofas, film-themed cocktails and a glitzy interior that's straight out of the Golden Age of Hollywood.
If theatre's more your thing, then an evening at the Birmingham Repertory Theatre is sure to do the trick. With three performance spaces that cater to a range of works and productions, any fan of the theatrical arts should make themselves a regular here.
Located at the University of Birmingham, the Barber Institute of Fine Arts' impressive collection is well worth exploring. With Renaissance masterpieces and modern icons sharing wall space, it's a must for anyone with a creative streak.
Once the site that produced the classic English dessert, the Custard Factory is now an open-plan space that's filled with quirky boutiques, vintage stalls and cute cafes! if you're looking to tick shopping, eating and generally exploring something different, it's well worth a visit.
If you're looking for a student living experience that offers more, head over to  NIDO STUDENT  to see our global properties or drop us a line on 0207 1000 100 for more information.