Reading Time:
5
minutes
Luckily, we've got you covered with this handy guide to packing the essentials, deciding what to leave behind and some helpful storage solutions, too. We'll be going over everything from important paperwork, bathroom necessities, and those all-important creature comforts, so get ready to take notes (you'll be doing a lot of that once term starts anyway).
1. QUICK TIPS AND HELPFUL HINTS
Before we get into the essentials, here's a few pointers to keep in mind before you go chucking everything into a suitcase and attempt to shut its overflowing contents.
Travel light: Remember, your new home will provide many of the essentials you'll need – so there's no need to bring the kitchen sink. When you're moving in, we'd recommend a large suitcase, a few boxes for extra things and a bin bag of bedding.
Keep it cheap: Resist the urge to splurge on pricey things when basics will do the trick just as well. Duvet covers, kettles and stationery can all be bought from big supermarkets on the cheap, so there's no need to splash out.
Double check: Before you start packing or buying anything, it's worth seeing if your new home provides anything you could leave at home.
Buy when you get there: If you're looking to cut down on the amount you take, bring along the absolute essentials and buy the rest when you reach your halls. This is handy for bulkier items like bedding, pots and pans.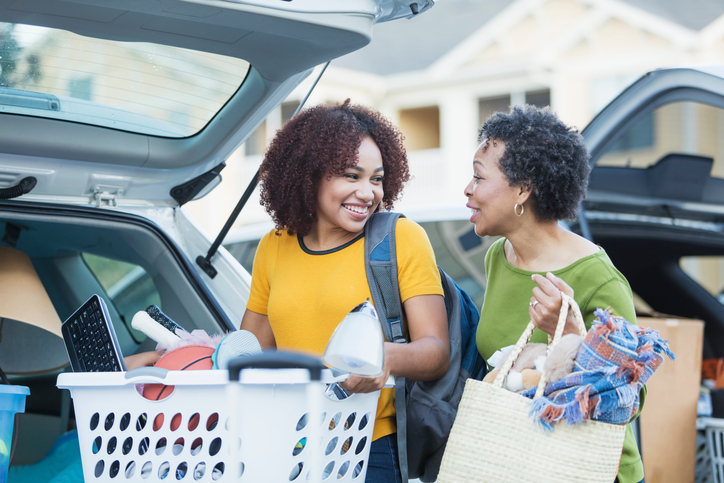 2. THE ESSENTIALS
IMPORTANT DOCUMENTS
Easy to forget but incredibly important, you'll need to bring along all the paperwork that actually says you're a student. This includes things like your passport or driving license, university documents (such as your acceptance letter), all Student Finance documents, the course acceptance letter, National Insurance card, passport photos and bank details. Phew, that's everything. Keep them all together in a file so they don't go missing.
If you've received any scholarships or bursaries, then the relevant documents should be brought, too.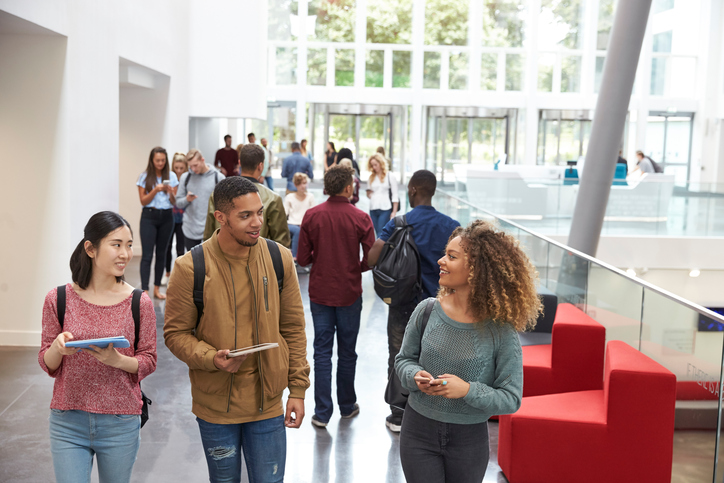 BEDDING
While the bed will be provided, you'll still need to bring along a duvet, bed sheets, pillows and pillowcases, along with anything else that helps you get to sleep at night. You might want to take a fleece throw or warm blanket for the colder months. Just make sure to double check the size of the bed before you go. If you're really looking to cut down on what you take, however, it might be worth buying bedding once you're there.
CLOTHING
When it comes to clothing, it goes without saying your everyday wardrobe is a must, but make some room in your suitcase for smart casual and formal clothing and shoes. Seasonal clothing, as well as hats, scarves and gloves, are important for when the temperatures dip, too.
International students: check the average all-year-round temperatures and conditions of your new home city. The UK weather is very temperamental, and the conditions can change wildly between the depths of winter and the sunny days of summer.
If you're staying active, bring gym clothing and swimwear, while slippers, a dressing gown and nightwear are a good choice if you really like to unwind in the evening.
Two things: clothes hangers, and lots of them, are a must, and remember – you don't need to bring all the clothes that you own.
ELECTRICAL ITEMS AND ENTERTAINMENT
After you've finished studying, stuff to keep you entertained is essential. Plus, you'll need your laptop to type up all of those essays. Even if TVs are permitted, consider the fact you'll have to pack this hefty bit of equipment and cart it around. Might be one to leave at home. Don't forget to bring your phone and charger either.
BATHROOM ITEMS
Be sure to bring your own towels and your favourite personal grooming products. This is especially important for overseas students in case your new home city doesn't stock your preferred brands. And you'll be thankful you brought medical supplies and cold medicine to combat the dreaded Freshers' Flu.
3. WHAT TO LEAVE AT HOME AND WHAT TO BUY WHEN YOU'RE THERE
PRINTER
Though it's a nice convenience to be able to print documents and essays, a printer is a bulky item that's going to take up a lot of space – and who wants to fork out for the cost of cartridges?
YOUR READING LIST
Though it might seem like the mark of a model student, buying your entire reading list beforehand is going to put a serious dent in the wallet and will be a Herculean task to take with you. Here's a bit of insider student info, you don't need all the books on your reading list. Wait until you've started your course and see which books are absolutely necessary to buy, otherwise, you can borrow the rest from the library or borrow one from a course mate.
NOTES AND BOOKS FROM YOUR A-LEVELS
Similarly, it's best not to keep hold of your old notes and books from your previous courses, as the material tends to differ vastly once you get to uni.
KITCHEN APPLIANCES
Kettles, toasters and microwaves are available in select Nido properties. Luxury items like toastie makers, coffee machines and rice cookers won't be provided, but let's face it, they aren't exactly a necessity. Basic stuff like plates, cutlery, bowls, mugs, a saucepan and a frying pan will be just fine.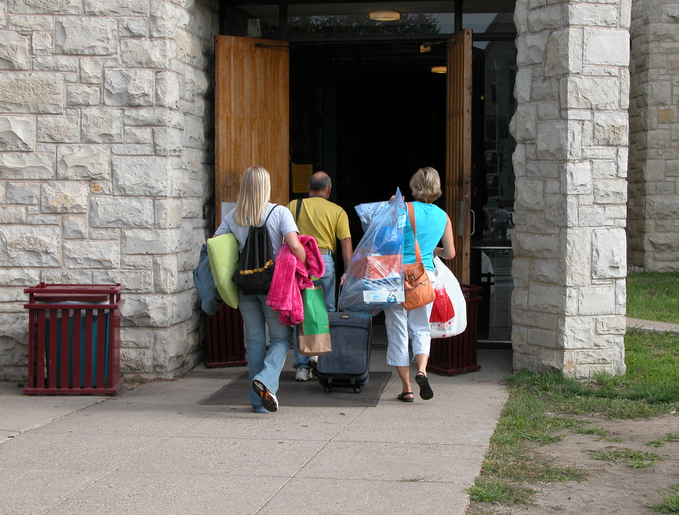 STATIONERY
Free up some space in your case and save the stationery buying 'til you get to uni. Freshers' fairs are rife with free stationery giveaways, so stroll on down and stock up on your pencil cases, notepads, USB sticks and writing implements there.
4. GETTING TO UNI
Once you're all packed up, you'll need to consider how you're going to travel to uni with all your belongings. It's all dependent on distance really. If you can drive there and get all your things into your car, it's perhaps the safest bet, but sometimes this isn't always possible.
If it's long distance or cross country, then a National Express coach might be worth looking into. Though they take a fair bit of time to get from A to B, they're super cheap and there'll be plenty of luggage room for your stuff.
If you're coming from abroad, it might be possible to pack light enough to fit everything on the plane (and avoided excess baggage prices). If this isn't feasible, look into a low-cost international shipping service and get them to take care of large packages.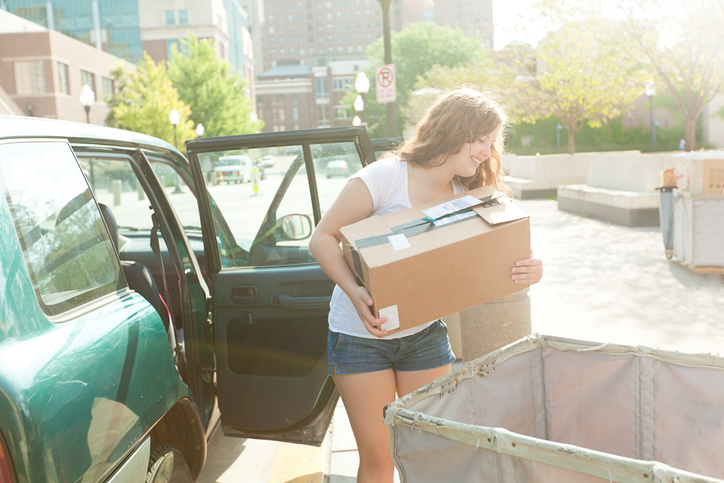 STORAGE SOLUTIONS
The only thing that's more work than taking your stuff to uni is bringing it home with you. Thankfully, there are plenty of self-storage options you can use to save you the headache. Companies like Lovespace and Safestore offer affordable storage for you to keep your belongings in a safe place over the summer break, ready for the start of the new term.
Looking for somewhere to stay during your studies? Head over to THE NIDO STUDENT WEBSITE to see what properties are close to your location, or give our team a call on 0207 1000 100 for more information on our student residences.